Description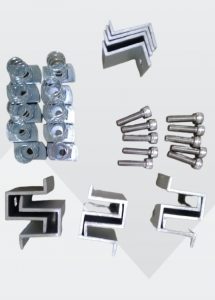 Mounting kit Package includes following products:
1. Micro channel 30x35mmx300mm x 10 nos
2.Spring nut x 10 nos
3.35mm end clamps x 4 nos
4. Middle clamps x 6 nos
5.Allen bolt 80MM x 10 nos
300MM micro channels are suitable for the ridged roof as shown in the picture.
Steps for TIN roof solar panel mounting.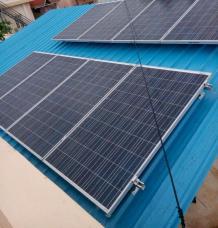 Step 1: Fix the micro channels on the TIN roof with self-threading screws or bolt-nuts.
One micro channel for each corner panel, total 4 nos.
8 nos Middle micro channel host the 3 nos middle panels
Micro channel 30x35mm x 4 no's for the 2 corner panels

Micro channel 30x35mm 6 no's for the 2 middle panels
Step 2: Insert the Spring nut in to the groove of the micro channel.

Spring nut x 10 nos
Step 3: Fit the 6 middle clamps for the center micro channel spring nuts around the middle solar panel frame on all sides.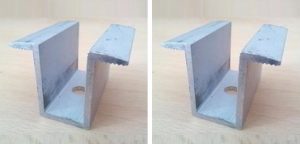 Step 4: Fit the end clamps for outer end of the panel fastening to the panel frame.

35mm x 4 nos
Step 5: Fasten the Allen bot to the Spring nut on middle clamps and end clamps.


Allen bolt 30MM x 10 nos
When to choose 300MM instead of 150MM micro channels?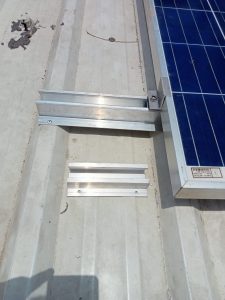 Video for fitting the panels on TIN roof: https://www.youtube.com/watch?v=bnCAv-HgsPs